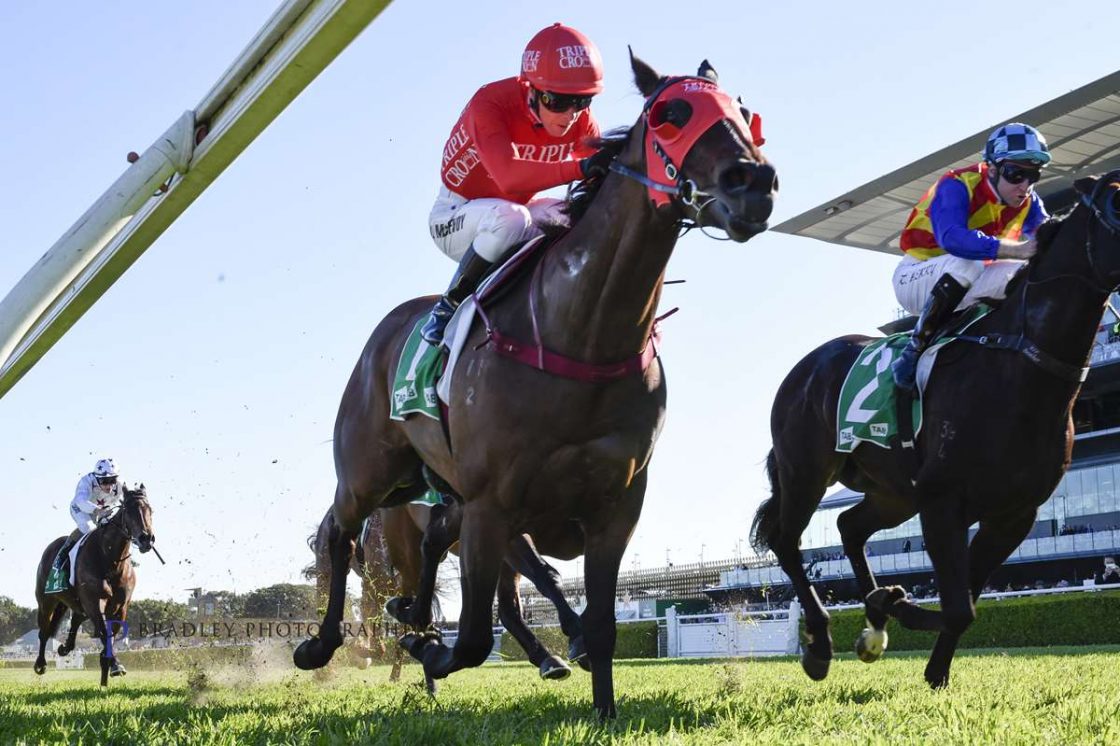 They look comfortable enough to put on some Frank Sinatra and pour a couple of shots of whisky. Make plans for dinner and a movie at Randwick's Ritz Cinema­. He keeps gazing at her like he wants to read her some poet­ry: it's a beautiful little scene.
He's Redzel. Two-time champion of The Everest. She's Lauren Smyth, his strapper. No one quite knows a champion thoroughbred as intimately as a kind-hearted strapper.
She's the one who feeds him. Washes him. Cleans him. Massages him. Cuddles him. Lets him roll in the hay. The sand. Ices his legs. Brushes his coat. Tickles his chin. Guides him to the track. Whispers encouragement. Starting time? Three-thirty in the morning. Every morning.
Sometimes I wake at midnight and think: I just want to go to the yard now! I really want to go to the yard right now," Smyth says at Snowden Racing's Royal Randwick stables. "I just want to be here with him. It's actually like a drug. It's addictive. I just want to make sure he's all right."
Smyth has only been in the job for three months, initially fearful of the responsibility of caring for $15m worth of equine supremacy.
"I was sick with nerves," she says. "I was crying. I was on the phone to Mum: what am I supposed­ to do? What if he doesn't like me? To start with, it was horrible … He didn't want to know me. I was standing in there thinking: um, do I pat him? What do I do? Is he ever going to like me? I don't think he'll ever like me … he was so standoffish. I saw how he interacted with people who had worked here for years, how they all messed about and played with him, but he would do none of that with me."
The cold shoulder lasted about a month. "I'd go in and he was like: Oh, it's you. Do what you have to do — and then leave," she says.
"It was so awkward. Obviously I knew The Everest was coming up and I was think­ing: this could be the worst few months of my life. Don't stuff this up.
"But then the day after he won his first race, the Concorde (Stakes) in September, I was just sitting in his stable — and he came over and put his head in my lap. That was how he told me: we're OK. I thought: we're getting somewhere here. Ever since that day, he's been brilliant."
Smyth is a wonderfully cheerful soul. She keeps referring to Richie­. I'm thinking: um, isn't his name Redzel? Do we have the right horse here?
"I only ever call him Richie," she grins. "Redzel is his race name. Richie's his stable name. His pet name. We don't use race names here. There's one called Land of Plenty. You don't want to be calling out 'come on, Land of Plenty'! So we call him Lappy. 'Come on, Lappy!'
"I actually think at the start calling him Richie helped me get over the whole fear of caring for such an important horse."
Smyth reckons Redzel knows when race day is. He kicks her bum gently as if to say: I know we're on today!
"He has his head sticking over the stable door when I get here," she says.
"He stretches out like a cat when he wakes up. And then he's the first one on the track every morning. Quarter to four, he's out on Randwick by himself. Richie wants it to himself.
"He really is Richie to me but then race day comes around and I think: Oh, Redzel!"
By Will Swanton of The Australian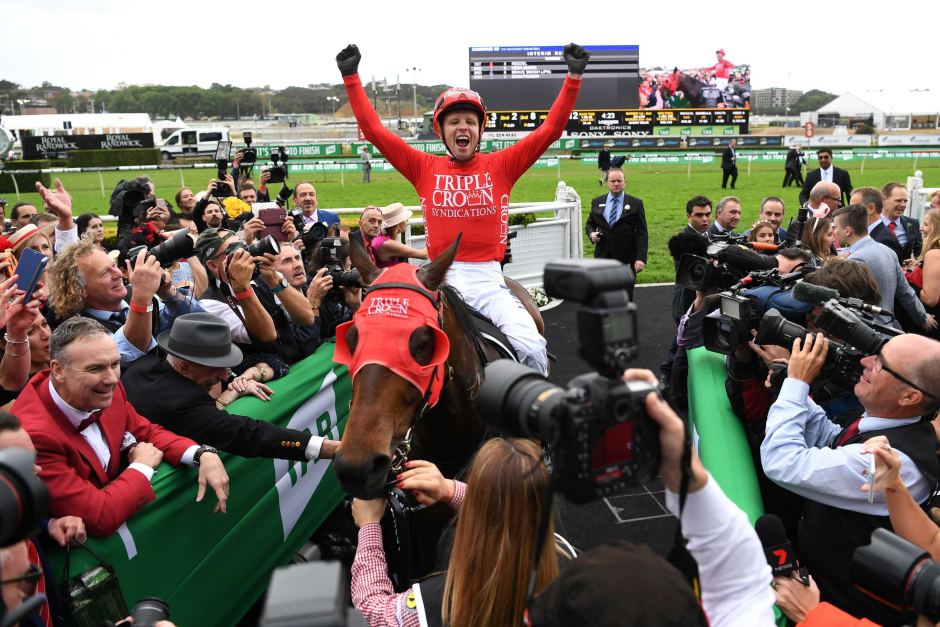 October 19 will always be a special date for Patricia Di Marco. A sad day.
Four years ago, Di Marco lost her husband, John, on that date after a long battle with illness. But his love and legacy races on with Redzel – the dream horse that he never really got to enjoy.
When the dual winner of The Everest steps on to Randwick to attempt a three-peat next Saturday, October 19, Di Marco will be surrounded by her girls, Katrina, Lauren and Elisa, and John's best mate, Brad Playford, who shares in the ownership.
The inaugural Everest was almost two years to the day since John died.
It's hard to escape the feeling that Redzel is John's lasting gift.
"When we heard the date this year we went, 'Oh my god, that is the day John died'," Di Marco says. "It is very bittersweet.
"I'm lucky the kids have always been with me. It has always been hard, but that makes it easier.
"All we have done on Everest day is cry and say, 'He has done it for John'.
"They say dad is up there helping us out because he always said Redzel was going to be our superannuation cheque."
Di Marco owns a share in Redzel because of John's love of horse racing. In his final days, Redzel was the interest he needed.
"John was always into horse racing and we had horses in the past," Di Marco says. "Some were good and some were not so good, as happens in horse racing.
"John was extremely ill. He had cardiomyopathy. One of the things we liked to do was watch the races on Saturdays.
"He was watching the news one night and this horse came through and he saw it and said how about we get a horse.
"I shook my head and thought, 'Oh lord'. We had horses before, but he wanted another one.
"It gave him such an interest and a desire to watch and communicate with people. It was the best thing for him."
The Di Marcos bought a son of Snitzel out of Millrich and then, a week or so later, John took a call from a racing mate.
"Brad rang him when he had just seen Redzel," Di Marco recalls. "He said, 'I just saw this lovely horse at Muskoka Farm and I'm thinking of buying into it'.
As fate would have it, Brad was looking at the same Snitzel-Millrich colt John had just bought into.
"John told Brad, 'I have just bought five per cent' and Brad went and bought the other five per cent.
"It was perfect.
"Brad has been a lifesaver for me because, realistically, I couldn't go into Randwick without him.
"It had such a dramatic effect on me, going to the races, because it was what John and I did.  It was never me going to the races by myself.  Brad was there for me. He always waits for me and takes me in and takes me upstairs; makes me feel comfortable."
John lived to see Redzel win his first start. By the time he died in 2015, it was the sprinter's only win in five starts. But he could see the potential.
"He was here for the first one," Di Marco says. "He always had such hope for the horse and said, 'This horse has got such talent' to me.
"He kept saying to me, 'They should just let the horse run. He doesn't want to be held back he just wants to run'."
There was no way Di Marco was going to let go of Redzel after losing her husband. They shared a dream that has become reality.  Racing has been a way for the family to stay together.
"Once John passed away, prior to Redzel winning the Everest, the kids started coming with me to races because that was dad," Di Marco says. "It was his love, so we just kept it going.
"We love this horse, of course, but it is more about him.
"We keep saying John is up in heaven with the persuader making it win."
The first real sign that Redzel was the horse John thought he was came a year after his death at the Melbourne Cup carnival when he won over 1000m.
"He would have loved that," Di Marco says. "He would have loved all of this."
Redzel had found his feet and the free-running sprinter added a group 1 in the Doomben 10,000.
Then The Everest was created. Suddenly John's superannuation dream for his family could be real.
Redzel ran his way into the first Everest with a couple of wins in 2017. He was the star of the inaugural Everest day at Randwick on October 14, 2017. Di Marco and her kids were there with Playford cheering him on.
"John couldn't have imagined this, but it was like he knew it was coming," Di Marco says. "Every time he goes across the line, there are tears of joy and sadness.
"It is pure elation. Then we just all cry. Bradley cries. I cry. The girls cry. The boy [Lauren's husband Troy Graham] cries. We just all cry.
"It is like, 'Oh my god he's done it'.
"Then there is sadness, because this was John's dream. He would have been over the moon to see this horse doing this.
"But it is like he is still with us."
Redzel repeated the feat 12 months later and has given the Di Marcos an extended family with his other owners. They have all had dreams and heartache and been brought together by the winner of $15 million in prizemoney.
"We have built up this great camaraderie with the other owners; we are a bit of a family," Di Marco says.
"We don't ring each other up all the time, but on race day day we get together and enjoy it and share each other's company and share our stories."
Di Marco knows Redzel has done what John would have wanted.
"He hasn't changed my life," she says. "The money is not enough to change my life, but it has made life very comfortable. It has made my life easy and the kids' lives easier.
"I think John would have liked that."
By Chris Roots
Sydney Morning Herald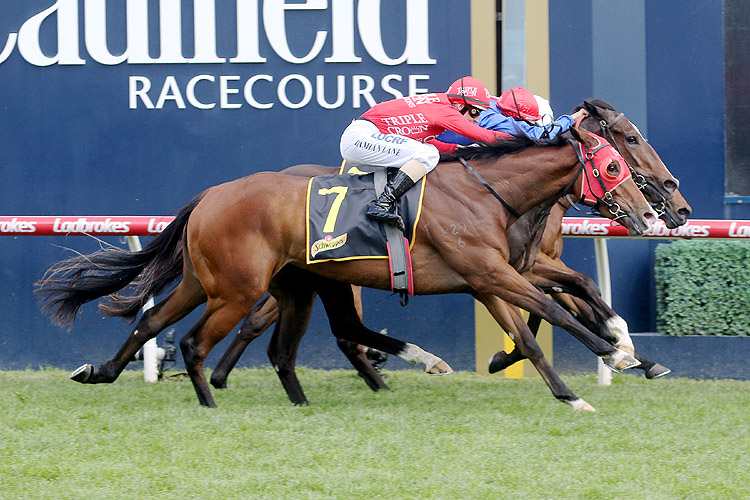 The ultra talented Missile Mantra (a $30,000Magic Millions purchase by Chris & Mike Ward from the Arrowfield draft) has shown her sheer class since her first day on a race track. Thing were taken to another level again on Saturday when she competed in the Group 1 Thousand Guineas at Caulfield.
Having had no luck with barriers, she again drew the extreme outside barrier for the Group 1 feature, which dictated her having to go back to the tail of the field during the run. The race tempo was slow up front, making it a tough assignment for anyone wanting to run on from the back of the field, but Missile Mantra defied that with her scintillating turn-of-foot, absolutely flying home to just miss the bob of the heads on the line and finish 2nd by a nose.
It was agonisingly close but an almighty performance from the daughter of Smart Missile. Jockey, Damien Lane has real belief in this filly and after some dreadful luck with dead-ends in previous races this preparation, he was close to tears with raw emotion after the race. He so desperately wanted the win for Missile Mantra as we all know she deserves it. As trainer Peter Snowden said post race, "her day will come, she is such a talented and honest filly."
Missile Mantra is a ripper and we couldn't be prouder of her. She has gone to the paddock for a spell now and we look forward to continuing the ride with her owners in the Autumn. Congratulations to our owners, Damien Lane and Peter & Paul Snowden for an outstanding achievement at the highest level.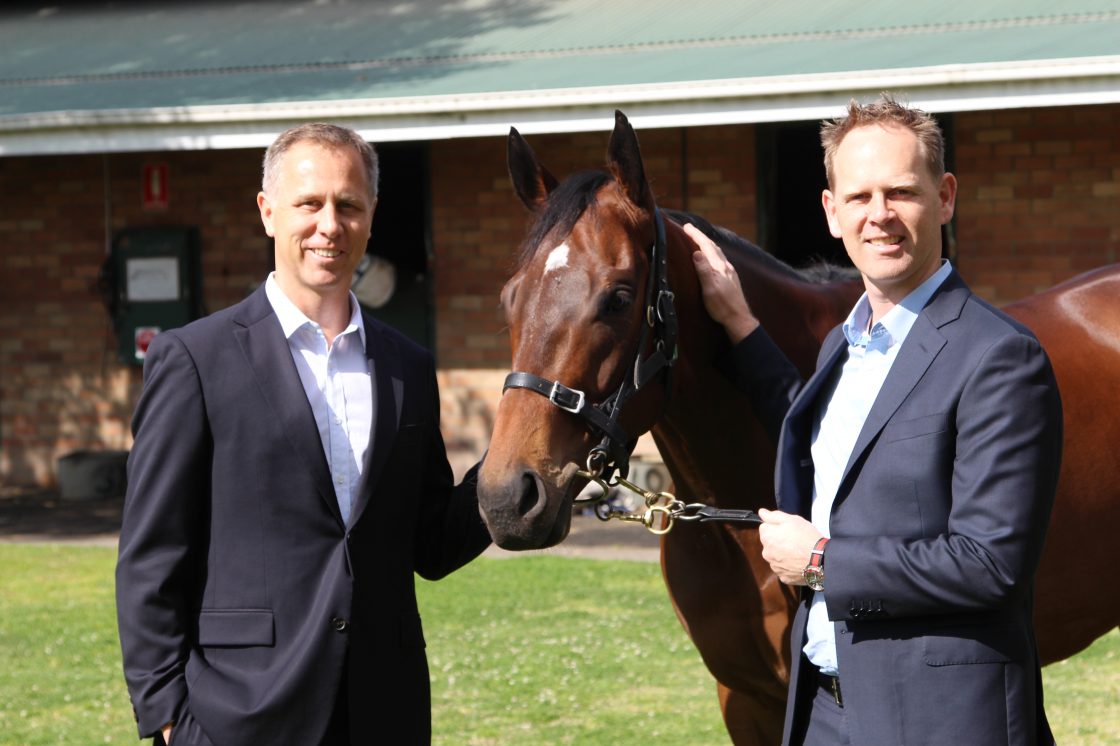 The Everest Diaries speaks with Chris Ward.
Armed with an understanding of the genetic make-up of Thoroughbreds through his tertiary education, Redzel owner and Principal of Triple Crown Syndications, Chris Ward shared his expertise with those looking for racehorse ownership through the development of Triple Crown Syndications.
Ward was responsible for the purchase of a Snitzel colt for a mere A$120,000 during the 2014 Gold Coast Magic Millions Yearling Sales. Today that gelding has amassed A$15,560,000 and is known in racing circles the world over as the Greatest Sprinter on Turf. Redzel is his name.
ED: Where does the name 'Redzel' come from and how did you decide to go with this name?
CW: After we have formed a new syndicate of owners for a new horse, we ask them all to submit some name suggestions. We then ask all owners to vote on these names to find the most popular name to then register. On this occasion, it was Redzel which simply represented the 'Red' colours of Triple Crown Syndications and the 'zel' comes from his sire Snitzel.
ED: Did you expect him to do as well as he did in the horrendous downpour last year. Or did you have your heart in your hand for a moment there?
CW: He had a little hiccup about a month before the race which had us worried for about 48hrs but he quickly came good and was building particularly well into The Everest. So, we had a lot of confidence that he was a real live chance to win it again. When the heavens opened up and the torrential rain came, it only enhanced our confidence as we knew it would only detract a tiny bit from Redzel'schances, but it may dent the chances of a few other runners. His versatility on all track surfaces is a big advantage.
ED: Redzel is aiming for the three-peat which has landed the spotlight on you and Triple Crown. Obviously, Redzel doesn't know it but has there been any extra pressure on yourselves or the trainer as a result of this public interest?
CW: I think we felt more pressure in year 1 of The Everest. The build-up was enormous as it continues to be every year now but back then we didn't know what to expect. Now we have experienced that for a couple of years as have our owners, so we are a bit more relaxed with it whilst still being extremely excited to be a part of it again. We are also so fortunate to have won both runnings of The Everest so far, so really, anything is a bonus from here.
ED: What has winning The Everest twice in a row, felt like and what would be winning the Everest crown for a third time mean to you?
CW: Amazing. Simply amazing. The Everest is a juggernaut and went from not existing to immediately being an enormous event in year 1, which is unheard of. For mine, and for differing reasons, it is right up there next to the Melbourne Cup as far as the pinnacle of our sport in Australia. The Melbourne Cup has the incredible tradition and history but Australia's staying ranks are not our best asset, whilst The Everest is new and brash and it caters for sprinters and we all know Australia's sprinters are absolutely world-class. I think it may have been the highest-rated sprint race in the world over the last couple of years. To win the inaugural The Everest felt like a massive achievement for our whole team and a dream come true. To win The Everest again in year 2 was surreal. The most enjoyable aspect is being able to share in moments like that with our owners, the Snowdens, McEvoys, along with our family and friends. We now share those experiences for the rest of our lives and they can never be replicated anywhere else.
ED: In terms of the 3P's (Pedigree, Performance and physical condition) & competition, why do you feel Redzel is best placed to win The Everest this year too?
CW: So far, he looks to have returned in magnificent order. His trials have been first class and he is feeling really well. He is the proven two-time champion of the race so we know when he is at his best he can beat anyone over the 1200m at Royal Randwick. He is a front running horse who makes his own luck and it doesn't matter whether it is a dry or wet track for him. There is still a lot of water to go under the bridge but our confidence is building every week as we get closer to the race. The bottom line is, that we know he is a live chance to do it again and that would be out of this world!
ED: What are the plans for Redzel before & after The Everest?
CW: He will resume first-up in the Concord Stakes over 1000m at Royal Randwick on the 7th of September. From there he will either race in The Shorts over 1100m on the 21st of September or the Premiere over 1200m on the 5th of October (both also at Royal Randwick) before lining up in The Everest for his third race of the preparation. Following The Everest, there is every chance that we will take him down to Melbourne for the Group 1 VRC Sprint down the straight at Flemington.
ED: Who are your other Triple Crown stars?
CW: Past Group One winners include Peggy Jean and Hot Snitzel but the current horses include the likes of Military Zone who is currently targeting the new A$7,500,000 Golden Eagle, Brave Song, Missile Mantra, Dothraki and Moss Trip whom all have some lofty goals for the Spring Carnival.
ED: The Redzel ownership group seems to be a large one, who are some of your biggest owners within the Redzel group?
CW: The ownership group is a great mix of people from all different parts of the country who didn't know each other beforehand but are now like a big family travelling from carnival to carnival and sharing this great experience that Redzel is giving them. We have people from all walks of like who share the common passion for the horse. They include Police Officers, a Doctor, a Teacher, a Pharmacist, a couple of Restaurateurs, a Concreter, a Retiree, an ex-New South Wales cricket coach, an IT specialist and an importing/exporting businessman.
ED: As Triple Crown, have you considered buying an Everest slot in the next round?
CW: We would be interested in partnering with the right person for that.
ED: How many stallions do you own shares in? How many mares do you own? On average, how many yearlings do you breed every year? What is your process of planning matings?
CW:  When planning matings for our clients, it is important to first determine their objectives. Are they breeding to race the progeny or are they breeding commercially with the aim of selling the progeny as a weanling or yearling? We then work with the client to determine an appropriate budget for the quality of their mare. From there the bloodlines and physical type of both the mare and potential stallions are assessed along with their fertility history to finalising our selection.
ED: What is your process when you buy a horse and what are the sales you frequent?
CW: We attend all the major sales. We spend a lot of time working through all the pedigrees for every horse in each sale before we even get to the sales. This gives us what is still a very large list of horses that we believe are genetically capable of making it to the top level. We then go and inspect all the horses physically (both on-farm and at the sales complex) to narrow it right down to minimise the potential risks and increase our percentages of success by identifying the best athletes.
ED: The decade is almost over. What is on your bucket list of things to do before 2030?
CW: We are always looking to improve and evolve what we are doing. One race that I would love to knock over is the Golden Slipper and preferably with a colt. We have competed in that race many times but to date, it has eluded us. So, we will set that as a goal with our owners and trainers and set about trying to make it happen.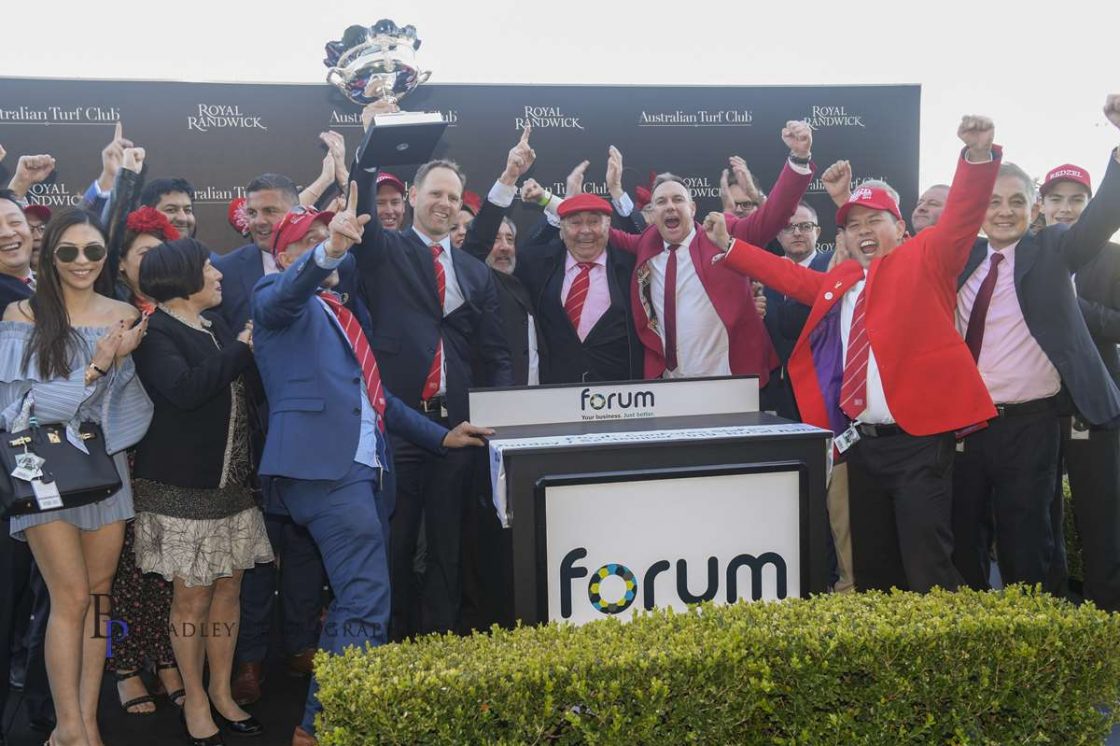 Managing owner Chris Ward of Triple Crown Syndications has said Redzel's (Snitzel) superb temperament is key to the sprinting marvel's longevity after he collected his 3rd straight G3 Concorde S. at Randwick on Saturday on his way to what his owners hope with be a 3rd successive win in The Everest next month.
The 7-year-old started 4th favourite in a top-class field of six on Saturday and showed all his quality and experience leading all the way over the 1000 metres and dispelling any concern that he was past his best having failed to come up in the autumn.
Ward said the expectations ahead of his first-up run were high, despite the market scepticism and the fact he was taking on two other horses locked in for The Everest as well as three aspiring to contest the $14 million race on October 19.
"It was a stronger Concorde than the previous two years he won, so we had a lot of respect for the opposition," Ward told TDN AusNZ.
"We were as confident as you could be going into it. You hold a slight reservation after his previous prep when he was a bit below par. If you can put that out of our minds, all the feedback from Peter and Paul (Snowden) and from Kerrin (McEvoy) when he had been riding him in his work and from all his trials has been as good as it has ever been."
Asked to pinpoint the key quality that has marked Redzel through his 34-start career, Ward said his demeanour never changed.
"His temperament is a big factor. He's the most relaxed sprinter you'd ever see. They usually have a bit more edge to them and are bouncing around and can waste a fair bit of energy, but he's the coolest and calmest customer that you'd ever come across," he said.
"His temperament is a big factor. He's the most relaxed sprinter you'd ever see…. He's the coolest and calmest customer that you'd ever come across." – Chris Ward
"Even when he's going around the enclosure and when he is out on the track, you would swear he's half asleep. He's that quiet. He conserves all his energy until it's needed and I think that is his key attribute along with the fact he's an incredibly athletic horse."
While Redzel has put the first score on the board for the spring and came through the run without any issues, Ward is very much aware that The Everest is still six weeks' away.
Last year, Redzel was a dominant winner of the Concorde S. before a stable mishap on the night before he was due to contest the G2 Shorts threatened his entire campaign. While he was below par in the G2 Premiere S. the next run, he then rebounded to win The Everest.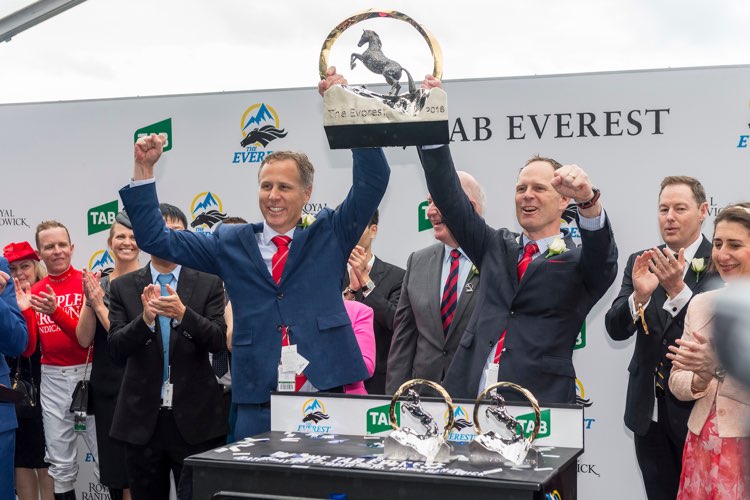 With seven of Redzel's rivals already locked away, Ward is in a good position to assess the likely strength of The Everest compared to the first two editions.
"I think it stacks up as strong as ever. The landscape changes a little bit from week to week from here on in," he said.
"Pierata (Pierro) took a big step yesterday, Sunlight (Zoustar) might have been a little bit below par. Things will keep evolving and changing."
"There is always going to be the strongest sprinters in the country. They will be there on the day and that's when they are all aiming to peak. It will be a mighty contest again."
By Bren O'Brien
TDN Aus/NZ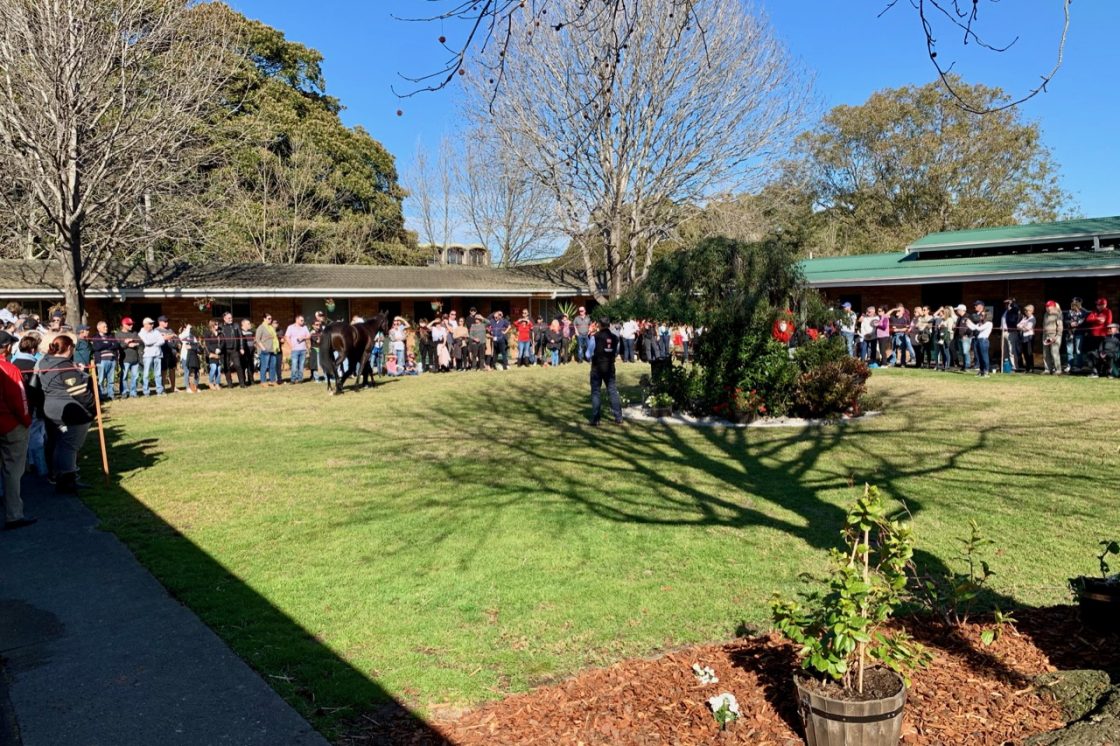 The Triple Crown team of owners enjoyed a magnificent morning of sunshine, horseflesh and food and drinks at Snowden racing headquarters on Sunday.
We were blessed with glorious weather as a large group of our owners descended on the Randwick stables to not only come and see their own horse but also the other horses in the team and learn how they are all progressing along with some upcoming plans. You step from the busy, hustle and bustle of High Street, Randwick into a serene horse oasis just inside the Snowden Racing gates. We had no less than 26 horses parade on the morning whilst our owners, along with their families and friends, listened intently to Michael Ward and Peter Snowden discussing their progress.
The staff at Snowden Racing presented the horses immaculately and it was very exciting to see the firepower the team has leading into one of the most anticipated Spring Carnivals which this year has an incredible $45m and nine consecutive million dollar race days on offer. Redzel, of course, was the star of the show along with the likes of Military Zone, Brave Song, the old boy Dothraki and so many more including a number of up and coming stars of the future.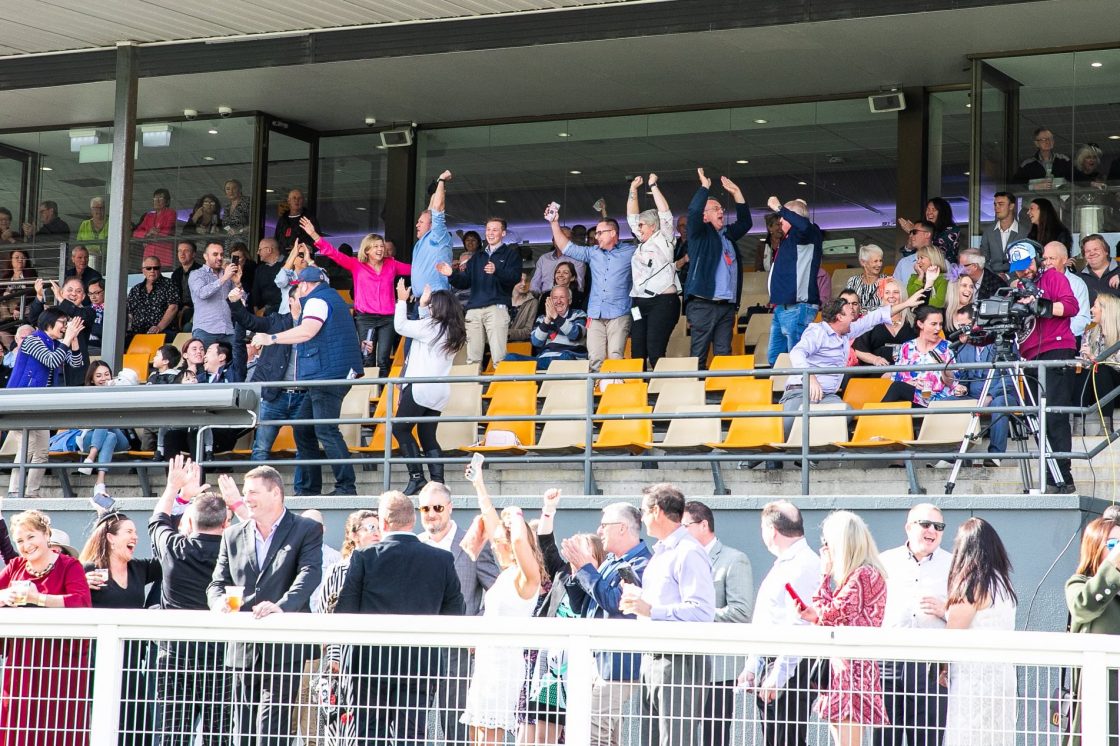 There were loud and excited cheers reverberating around the Gosford racetrack on Saturday, with the large group of Triple Crown owners enjoying a magnificent day out at the track with a 2yo winning double.
First it was Oribella, a 2yo daughter of Olympic Glory, having her third career start after a couple of minor placings. She has previously shown that she will appreciate a little bit of a trip and was stepping up to 1600m for the first time. She had an awkward barrier but jockey Travis Wolfgram got her travelling nicely back towards the tail of the field. She found plenty in the straight and had a great battle with the favourite all the way through to the line with Oribella proving too strong and providing her owners an early career victory. She looks a progressive type with plenty of fun ahead.
The celebratory drinks and excited dissections of the race replays had barely started to slow down when fellow Triple Crown runner Invincible Dash lined up for just his second career start. The 2yo son of I Am Invincible was set the task of taking on the older and more experienced horses. Whilst he showed some mid-race inexperience, he also showed his natural ability and once jockey Travis Wolfgram angled him to the outside and found clear air, Invincible Dash put the after-burners on in an effort to chase down the leaders who had a good 5 lengths start in the straight. He displayed a great turn-of-foot to reel them in down the short Gosford straight and produce a thrilling win on the line. It was at this point the large army in red erupted in excitement and Travis reported later that he was startled by the sudden roar from the crowd as he crossed the line.
It was a great day for the Triple Crown & Snowden Racing team with Peter & Paul not only training both Oribella and Invincible Dash to victory but they also claimed the opening race with Switching To Win for the Stuckey's. Travis Wolfgram was on board all three winners and also deserves the credit for a 'great day at the office'.
A big congratulations to owners in both horses;
Oribella: Triple Crown Syndications., Mr C E Anderson, Mr T C Marshall, Mr S McClymont, Mr G G Kent, Mr A Zapantis, Mr ESW Cowan, Mr K F May, Ms S P Hopkins, Mr M J Watt, Doolan & Hellams Racing, Mr C D Charteris, P V C C Racing, Lexen Racing, Mr D F Ward, Mr J C Williams, Mr M R Jones, Mrs A G Gibson, Mr R Reddy.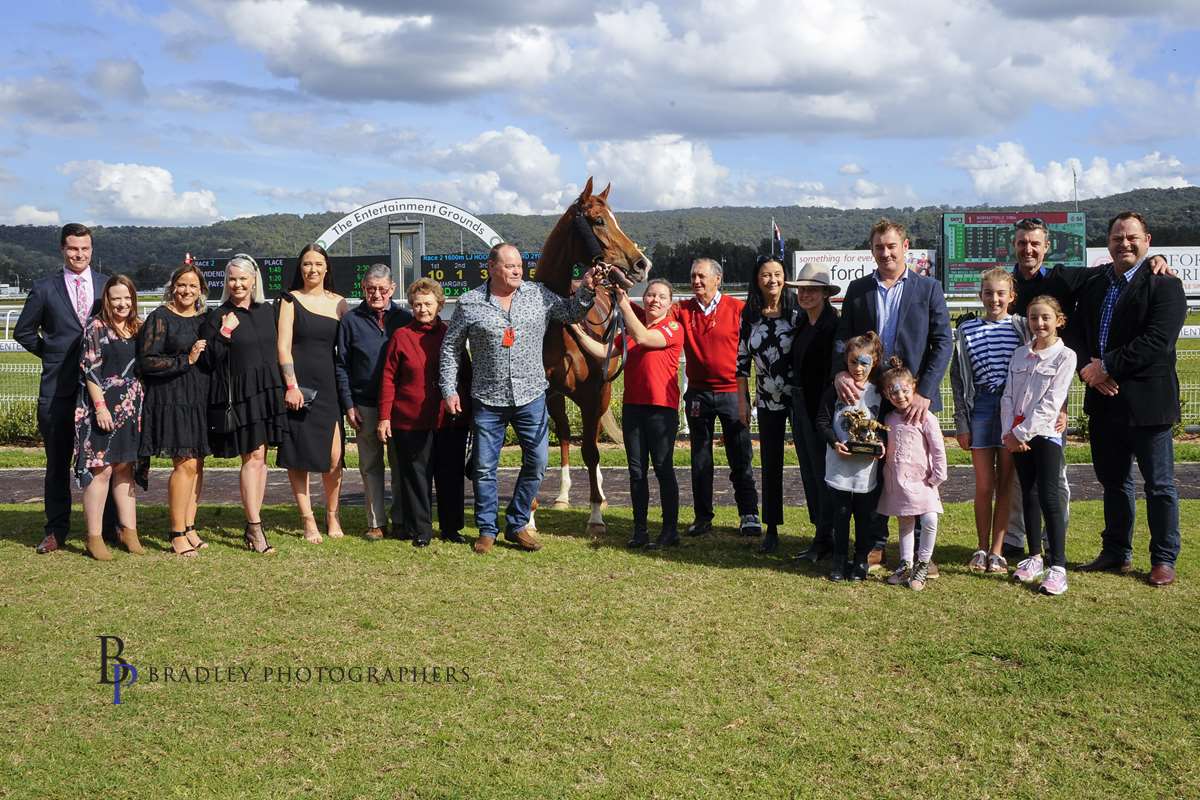 Invincible Dash: Triple Crown Syndications., Mr A F Herbert, Mr M Giardina, Mrs K Chau, Shout Dog, Mr I G Tyack, Mr D Colella, Sinclair, Star & Henville, Mr D J Frankel, Mr S A Broadley, Mr T J Henderson, Ohana Racing, Ms S P Hopkins, Mr K F May, Mr D J Gibson, Invincible Club, Dr A Kuok, Mr R P Grayson.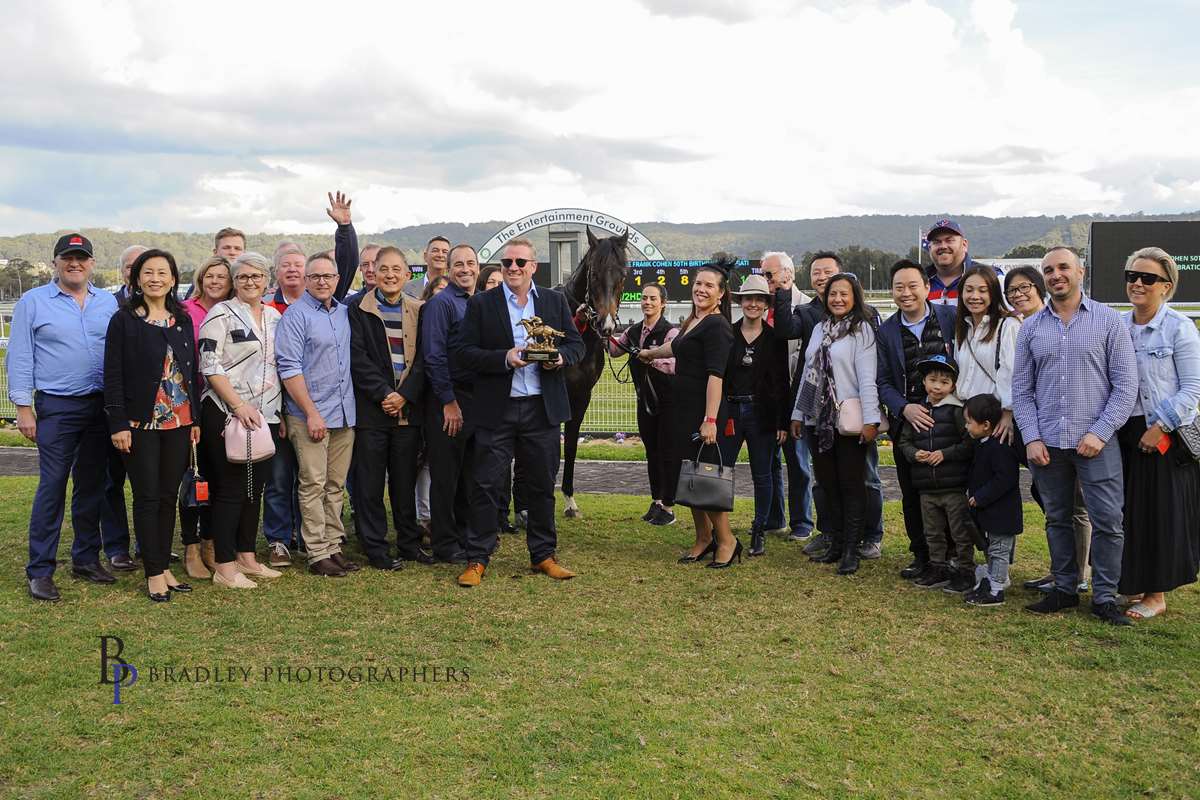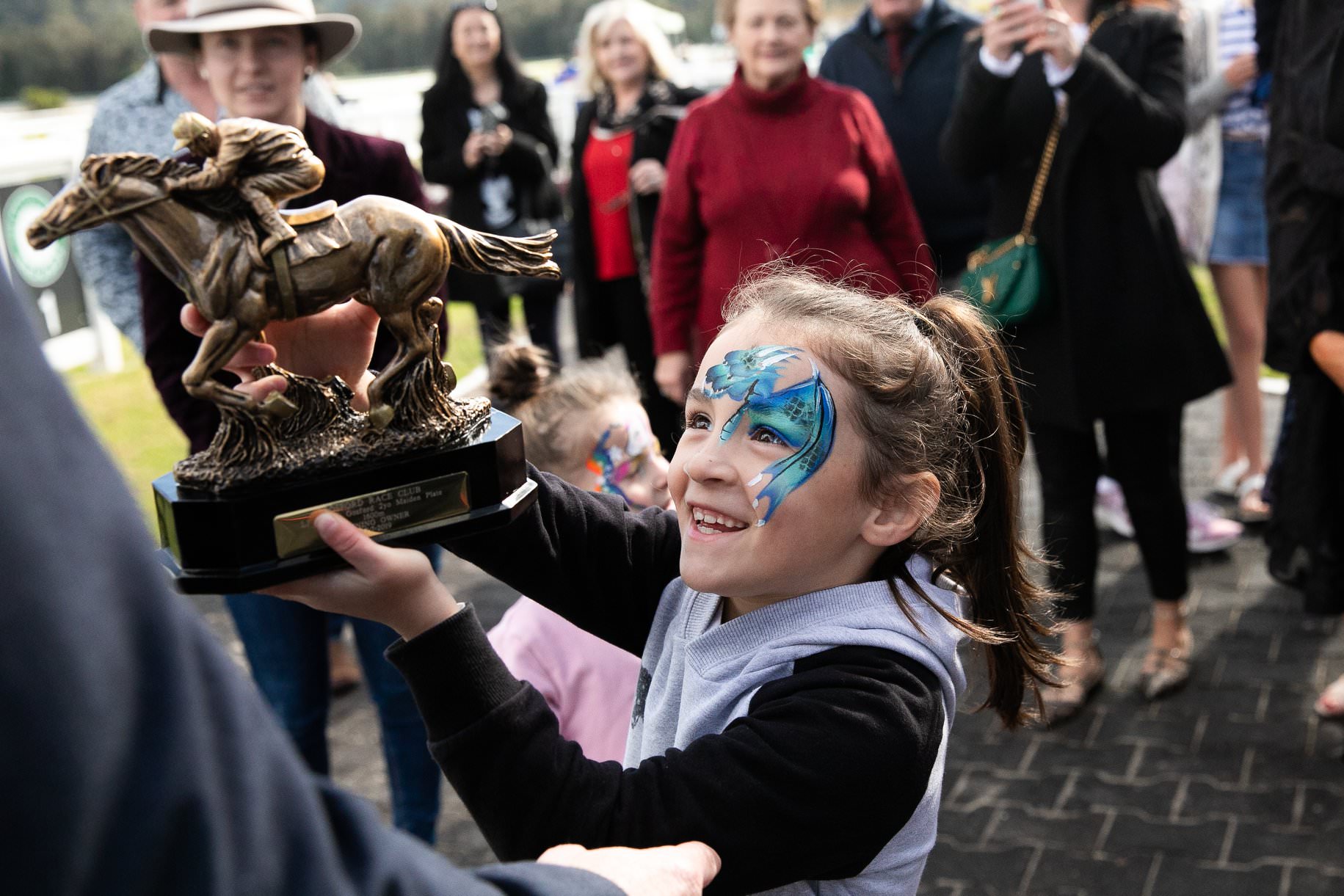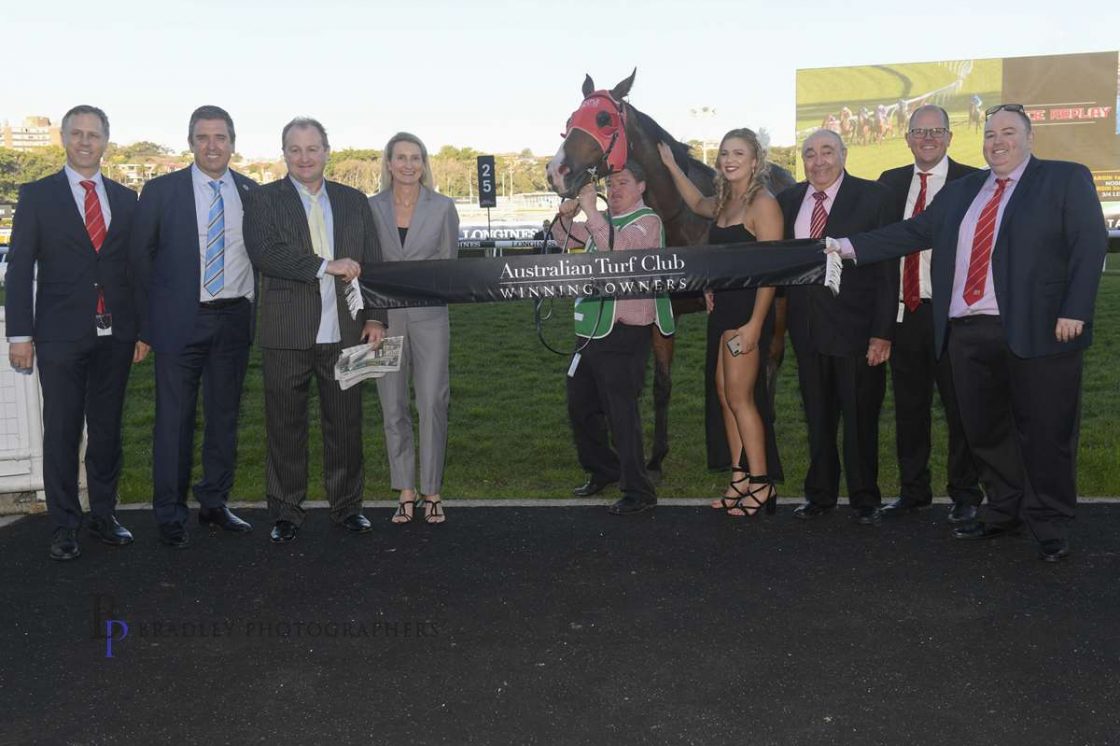 Woohoo!! Triple Crown's 4yo son of Smart Missile was super impressive at Randwick on Saturday when he notched up an exciting win over 1400m.
With Christian Reith in the saddle, Smartedge was taken back to the tail of the field from the wide gate and was spotting the leaders some 7 or 8 lengths at the 600m mark. Upon straightening up, Christian angled his mount to the outside and let him go. Smartedge has a great turn-of-foot and he put it on display to claim the lead by the 100m and was too strong to the line, winning in a tight finish.
This was Smartedge's second successive win after scoring in style at Eagle Farm in his prior start where he again finished with a strong sprint to the line to claim the race by a narrow margin. In total that is now 5 wins for Smartedge and his owners, with prizemoney of $321,925 so far in his career.
The decision has been made to tip Smartedge out to the paddock with January's $1,000,000 1400m Magic Millions race firmly in his sights.
Congratulations to all of his owners: Triple Crown Syndications., Mr J N Allen, Mr D Ward, Mr G J Sweeney, Mr V P Chau, Mr J P Monaghan, Mr M J Mcgrath, Mr D J Baker, Miss J Willis, Mrs J S Willis, Mr D W Willis, Mr J A Morrow, Mr R J A Morrow, Mr J A Martin, Mr M Mammone, Mr A J Martin, Smart Gold Dollars.