Everyone enters racehorse ownership with dreams of competing on the big stage and in the big races. Well they don't come any bigger than Group 1's and The Everest all in the space of four days. Two sets of Triple Crown owners had the thrills of their lives when their respective horses lined up and performed outstandingly well last week in the Group 1 Thousand Gunieas and then the $15m The Everest.
Firstly, the team's focus was down in Melbourne at Caulfield as Revolutionary Miss tackled the Group 1 Thousand Guineas for 3yo fillies. As was the unfortunate theme of the week, she had drawn a wide barrier and was forced to take the scenic route home covering plenty of extra ground whilst the eventual winner, Madame Pommery was expertly guided up the inside by James McDonald. Revolutionary Miss was both tough and tenacious as she closed hard to finish an exciting second. Incredibly, this was the second time she has finished second in a Group 1 at Caulfield, having also finished second (by a nose) as a 2yo in the Group 1 Blue Diamond.
Those two Group 1 placings along with her Group 2 win in the Blue Diamond Prelude have seen her career earnings climb to $712,275 so far and have also skyrocketed her residual value for her owners post racing. Revolutionary Miss was selected and purchased by Triple Crown's Chris & Michael Ward for $195,000 from China Horse Club in the Sledmere Stud draft at the 2021 Magic Millions sale.
Then the week somehow managed to go to another level after yet again another huge build up to The Everest back in Sydney at Royal Randwick. Racing NSW and The ATC do an outstanding job in promoting this race and indeed the whole day where we experienced a huge crowd of 47,000 people with an energy pulsating through the track like no other day. After winning the first two editions of The Everest with Redzel, the Triple Crown team was fortunate enough to be back with their fourth runner in the race's six year history and attempting to win it for a third occasion. Giga Kick proved to be a touch too good on the day but we couldn't have been prouder of Mazu's huge run. He had drawn barrier 11 in the spectacular drone light show earlier in the week and we knew that he would need some luck early in the race to give him a chance of winning against the enormous talent assembled for the race. Unfortunately, that luck deserted him, and he too had to circle the field and was incredibly brave to fight on and finish in third place, less than a length behind the winner. The owners were fully aware of the quality of performance that Mazu just produced and celebrated like winners when it was confirmed that he had clinched third ahead of Nature Strip.
In doing so, Mazu won a further $1,4000,000 in prizemoney to take his career tally to $3,366,850 so far. Mazu was selected and purchased by Triple Crown's Chris & Michael Ward for $180,000 from Parsons Creek at the 2020 Inglis Classic sale.
Both Revolutionary Miss and Mazu have a really exciting 12 months ahead starting with Mazu contesting the upcoming $3m Nature Strip Stakes over 1300m at Rosehill.
Congratulations to all of our owners of both horses on an amazing week!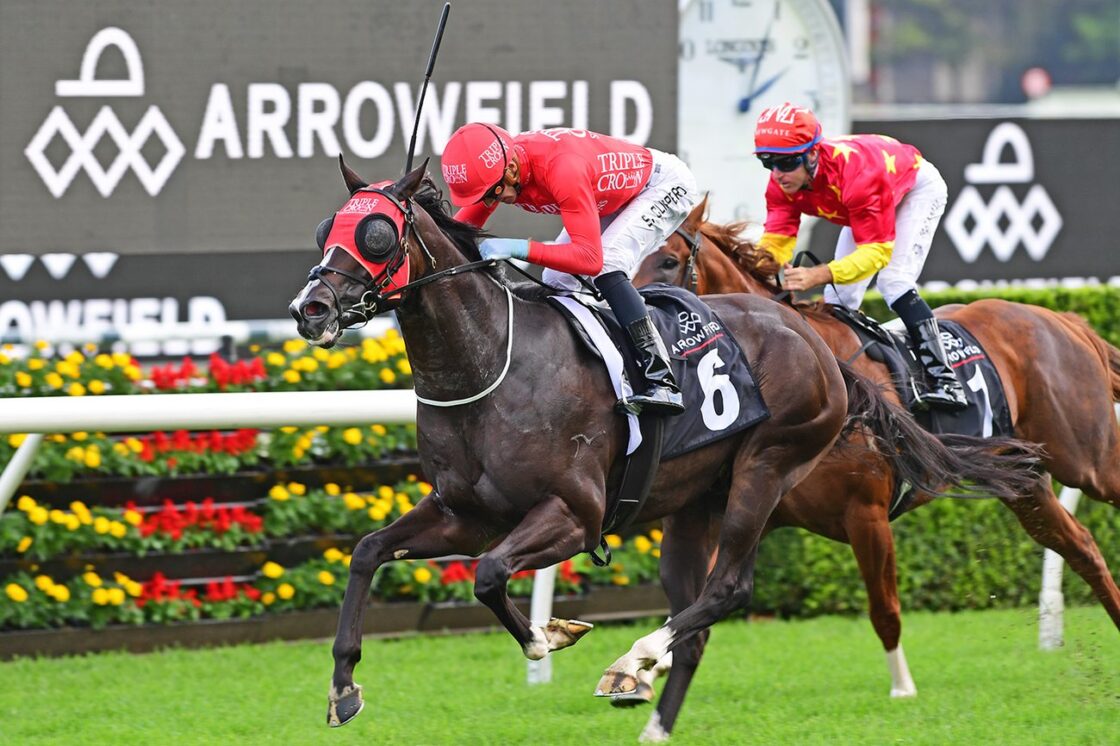 A glance at the Parsons Creek news page shows the significance of their star graduate Mazu. 

The latest three news items are all about him: the Doomben 10,000 G1 winner, the Arrowfield 3YO Sprint G2 winner, the three-time Listed stakeswinner, the $1.9 million earner and the Everest contender secured by The Star & Arrowfield for 2022 and 2023. 

As Parsons Creek Operations Manager Jo O'Gorman says, "He's done wonders for us as a small farm, he's opened a lot of doors and we're very proud of him."

The 4YO son of Maurice has emerged from a rich back-story woven across several decades, connecting multiple owners, breeders & trainers, three Arrowfield stallions, past champions, a leading syndicator and a fateful decision to buy a 17 year-old broodmare.

Born in 1999 at Arrowfield – whose brand she carries – from the third crop of future Champion Sire Flying Spur, Mazu's dam Chatelaine was bred and raced by Sydney businessman Geoff Wild, one of the racing owners of the celebrated Australian champion of the 1980s, Emancipation. 
Chatelaine's immediate family wasn't top-drawer, but her third dam Cendrillon was a high-class filly who defeated the great Storm Queen in the 1966 Thousand Guineas.

A little further back in the pedigree is Grey Port, the dam of Mayfowl, conqueror of champion Flight in the 1943 AJC Sires' Produce Stakes. In one of this story's several asides, Flight was owned by Sir Brian Crowley whose namesake race was Mazu's first stakes victory in October 2021.

Chatelaine was sent to the Randwick stable of Ron Quinton who recalls, "She was a big filly and it was quite amazing we got her to the Widden Stakes as a two-year-old, when she probably needed a little bit more time."

Chatelaine was second in that race, earning black type on debut, and as a Spring 3YO contested the Princess Series dominated by Victory Vein, splitting that filly and Calaway Gal in the Silver Shadow S. G2.

After six placings, Chatelaine finally won at a Canterbury night meeting in October 2002, but seven months later she was sold to Stuart Ramsey's Turangga Stud and transferred to Peter Moody's Melbourne stable. Ron, who otherwise describes Geoff Wild as "a lovely bloke", says, "I went crook at him because I would have bought her myself if I'd known she was for sale!" 

Ron has hopes of his own for a 2YO Maurice filly, Watch My Girl (ex Minamya) purchased by good client Ray Gall from Arrowfield at Inglis Easter. 

Retired to stud in 2005, Chatelaine became an immediate gem for Turangga, leaving Champion 2YO Filly and Coolmore Stud S. G1 winner Headway in the first crop of former Arrowfield sire Charge Forward. 

That early success helped Chatelaine's next two sale yearlings gross $700,000, and she left two more winners, Beckon & Empress Matilda, to Charge Forward. When the Ramsey family dispersed most of their bloodstock in July 2017, Chatelaine was Lot 36, in foal again to Charge Forward and knocked down to Marc & Lindy De Stoop for $54,000 – not a lot to pay for a Group 1 producer, but not peanuts, either. 

Jo (Marc & Lindy's daughter) explains the background. "We'd bought Parsons Creek as a lifestyle farm but it had been beautifully set up for thoroughbreds by Jack and Lucy Horseman, so we thought we'd pick up a few mares to breed from.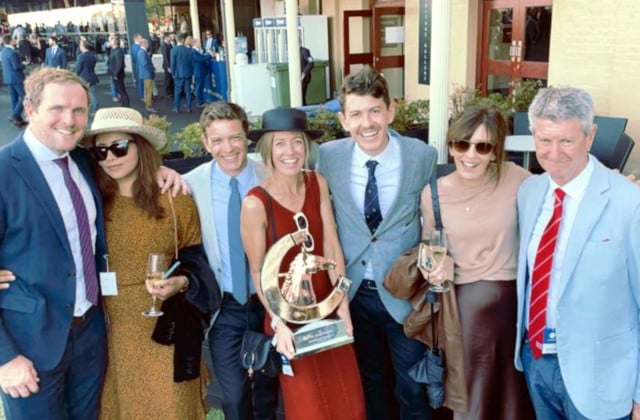 "Chatelaine was found by our then-manager John Collison, he was very good on pedigrees and liked her as a Flying Spur mare. 

"A lot of people are put off buying older mares but she's a really big roomy type, she's very strong and carries her age well."

The case for elite producers as older mares is supported by the early 1990s research of leading bloodstock consultant & analyst Bill Oppenheim who confirms the finding that broodmares "could up to the age of 21 produce a horse as good as the best horse they produced in their first six foals."

Chatelaine delivered city winner The Cruiser in 2017 and Jo explains how she and her parents decided on her next mating. 

"We went to the stallion parades and saw Maurice. We didn't know much about Japanese sires but he's such a striking horse and super-athletic. We watched all his races and thought we'd take a punt on him as a young, fertile stallion."

The foal that arrived in October 2018 wasn't entirely the hoped-for result. "Mazu was small as a foal and not the strongest, but he was neatly made and had a lot of attitude." 

His biggest fan was lifelong horseman and Parsons Creek Stud Manager Ross Bone who kept saying, "This horse is going to run – he's fantastic." 

By the time Parsons Creek came to sell the Maurice-Chatelaine colt, in the Farm's first yearling draft at Inglis Classic 2020, Marc De Stoop shared that opinion and retained 25% of him after he was purchased for $180,000 by Triple Crown Syndications.

Triple Crown's Chris Ward said at the time, "He's one of those colts that really took our eye the second that Mike and I saw him come out of his box. Maurice himself was just simply an exceptional racehorse, so if he throws on any of that sort of quality to this colt, I think we'll have a lot of fun."

That prediction has proved to be accurate on every front. Jo says, "It's a great group of owners and Triple Crown are very professional." 
One of those owners, Matt Garreffa came up with the name Mazu, which is Japanese for "first" or "in the first place", a position he's filled in 7 of his 13 starts.

Jo, who previously worked in events & marketing, is well-organised for Everest Day. "We've booked three tables for family and friends, we'll hang out with the Triple Crown owners and win, lose or draw we'll all have a bit of a party afterwards at the Woollahra Hotel."

Meanwhile, the "Queen of Parsons Creek" grazes happily with her best friend Noweheretosomewhere, a grand-daughter of Songline, forever famous as the dam of three-time Horse of the Year and Hall of Famer Sunline.

Now 23 years-old, Chatelaine is due to foal later this month to Redoute's Choice's dual Group 1-winning son King's Legacy and the De Stoops are fervently hoping for a filly.

However, they have a back-up plan in the form of Whitula (Onemorenomore-Chatelaine), purchased last year for $150,000 and now the dam of a yearling filly by Cosmic Force, and a filly foal by Maurice.
By Arrowfield Stud
The highly talented 3yo filly, Revolutionary Miss ran an exceptional 2nd by a pimple in the Group 1 Blue Diamond stakes as a 2yo over 1200m. Tomorrow she returns to the same scene at Caulfield with the aim of going one better but this time over 1600m in the time honoured Group 1 Thousand Guineas.
The Snowden trained filly has been running well this preparation without luck and again didn't find any luck from the barrier gods after drawing gate 10. She finished off very strongly over 1400m in her most recent outing in the Jim Maloney Stakes at Sandown. She was running last as they were turning for home and ultimately finished just 2.6 lengths behind the winner, Waltz On By. But this was enough to show that she should appreciate the step up to the mile and with an ounce of luck from the tricky barrier, she could figure in the finish and atone for that narrow Group 1 defeat as a 2yo.
This Group 2 winning filly by Russian Revolution was selected and purchased for $195,000 by Chris & Michael Ward from the Sledmere Farm draft at the 2021 Magic Millions.
By Ray Hickson
You have to feel a little for exciting sprinter Mazu, not only is he regarded as the next big thing in the sprinting ranks but cut from the same mould as dual Everest winner Redzel.
That's a fair amount to heap on the four-year-old's shoulders but co-trainer Paul Snowden suspects he could be an improved version of the stable's former star who retired with over $16 million in prizemoney.
"He's got a lot of similarities. His work is much alike to the old horse, his racing pattern is quite similar,'' Snowden said.
"He has that ability to absorb some pressure. If Redzel got attacked early or midrace, Trapeze Artist got him a couple of times, he was vulnerable late whereas this horse won't be."
Redzel was five when he won the inaugural Everest in 2017 so time is on Mazu's side and that was recognised with connections securing a two-year Everest slot deal.
Mazu begins the first of what could be many TAB Everest campaigns in a star-studded Group 2 $1 million Bowermans Shorts (1100m) at Royal Randwick and Snowden said the result is less important than the performance on Saturday.
But he's quietly confidence the performance will confirm his place in TAB Everest betting. He's $6.50 third elect with TAB in the Shorts and shares the second line at $8 in the Everest.
That's because Mazu has returned in great order from his breakthrough autumn campaign, where he went unbeaten in five starts including the Group 2 Arrowfield Stakes and the Group 1 Doomben 10,000.
"It's been a great preparation,'' Snowden said.
"Obviously they all resume in this race but the key component is how much improvement each horse has got coming out of the race.
"It's going to be a sticky result from everyone's point of view but I don't think it matters where you run so to speak it's how much improvement you have in you.
"I'd like to think he's going to butter up against these good horses in the future and it all starts on Saturday."
It's widely expected the Shorts will be genuinely run and Snowden said from Mazu's barrier (four) he could be the one to take advantage if Nature Strip and Eduardo falter up front.
"We're going out there to run well,'' he said.
"There's a bit of a tail to this race but I'd like to think we've got a nice horse who can run well against these. There's going to be speed on and hopefully we can be just behind it and have the last look."
Godolphin is playing the patient game in selecting an Everest runner, with Paulele regarded as the number one seed, and trainer James Cummings sends Andermatt and Athelric into battle in The Shorts.
The duo mixed it with Eduardo in the Concorde with Athelric finishing second and Andermatt, who was heavily backed, in fourth so Cummings concedes both need to improve on their efforts.
"It doesn't look like they can cause an upset but I think both horses can run very well,'' Cummings said on SEN.
"It's a shame to see Andermatt drawn so wide off the track, he's going to have a lot to do, but his condition going into the first-up run told me there was a stack of improvement in the horse.
"With that run under his belt he's gone ahead and he's going to need to if he is to run any sort of race against the quality of opposition he's up against. The depth is extraordinary."
Athelric rushed through the grades in the late autumn culminating in a Listed win in Queensland and Cummings suggested on his Concorde effort he can continue to climb the ladder to a degree.
Whether he's an Everest horse for Godolphin remains to be seen but he could be angling for a run in the Group 3 $2 million Sydney Stakes (1200m) on the Everest undercard.
"He took that first-up run in his stride, he continues to train in an understated fashion,'' Cummings said.
"He could be a quiet achiever and he is going to get a perfect run from his draw. Look for him to be running another good race but we've got to be realistic.
"He might find himself in something reasonable in one or two starts time."