Redzel Keeping Cool Ahead of Third Attempt at Summit
Managing owner Chris Ward of Triple Crown Syndications has said Redzel's (Snitzel) superb temperament is key to the sprinting marvel's longevity after he collected his 3rd straight G3 Concorde S. at Randwick on Saturday on his way to what his owners hope with be a 3rd successive win in The Everest next month.
The 7-year-old started 4th favourite in a top-class field of six on Saturday and showed all his quality and experience leading all the way over the 1000 metres and dispelling any concern that he was past his best having failed to come up in the autumn.
Ward said the expectations ahead of his first-up run were high, despite the market scepticism and the fact he was taking on two other horses locked in for The Everest as well as three aspiring to contest the $14 million race on October 19.
"It was a stronger Concorde than the previous two years he won, so we had a lot of respect for the opposition," Ward told TDN AusNZ.
"We were as confident as you could be going into it. You hold a slight reservation after his previous prep when he was a bit below par. If you can put that out of our minds, all the feedback from Peter and Paul (Snowden) and from Kerrin (McEvoy) when he had been riding him in his work and from all his trials has been as good as it has ever been."
Asked to pinpoint the key quality that has marked Redzel through his 34-start career, Ward said his demeanour never changed.
"His temperament is a big factor. He's the most relaxed sprinter you'd ever see. They usually have a bit more edge to them and are bouncing around and can waste a fair bit of energy, but he's the coolest and calmest customer that you'd ever come across," he said.
"His temperament is a big factor. He's the most relaxed sprinter you'd ever see…. He's the coolest and calmest customer that you'd ever come across." – Chris Ward
"Even when he's going around the enclosure and when he is out on the track, you would swear he's half asleep. He's that quiet. He conserves all his energy until it's needed and I think that is his key attribute along with the fact he's an incredibly athletic horse."
While Redzel has put the first score on the board for the spring and came through the run without any issues, Ward is very much aware that The Everest is still six weeks' away.
Last year, Redzel was a dominant winner of the Concorde S. before a stable mishap on the night before he was due to contest the G2 Shorts threatened his entire campaign. While he was below par in the G2 Premiere S. the next run, he then rebounded to win The Everest.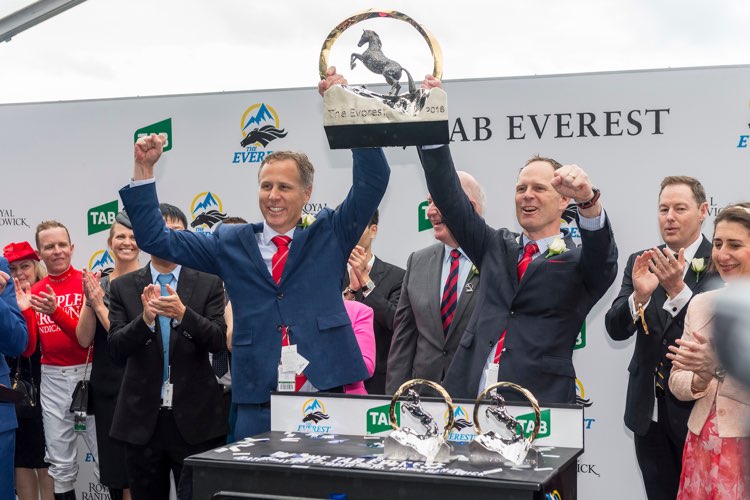 With seven of Redzel's rivals already locked away, Ward is in a good position to assess the likely strength of The Everest compared to the first two editions.
"I think it stacks up as strong as ever. The landscape changes a little bit from week to week from here on in," he said.
"Pierata (Pierro) took a big step yesterday, Sunlight (Zoustar) might have been a little bit below par. Things will keep evolving and changing."
"There is always going to be the strongest sprinters in the country. They will be there on the day and that's when they are all aiming to peak. It will be a mighty contest again."
By Bren O'Brien
TDN Aus/NZ