The Everest for everyone – from billionaires to chimney sweeps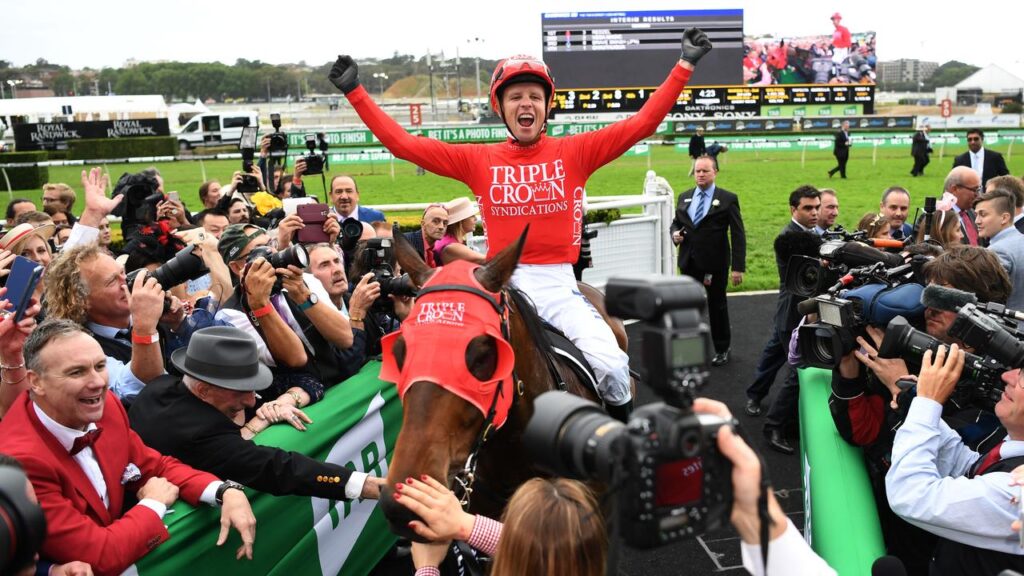 Mazu is Japanese for first place which might be a good omen for his eclectic ownership group going into the $20 million The TAB Everest at Royal Randwick on Saturday.
Trainers Peter and Paul Snowden and Triple Crown Syndicator Chris Ward have already won The Everest twice with Redzel (2017-18) and they are hoping Mazu can give them a third win in the world's richest turf race.
There are more similarities between Redzel and Mazu. They were both struggling to realise their potential as colts before the decision was made to have them gelded. Each sprinter then broke through at Group 1 level in the Doomben 10,000.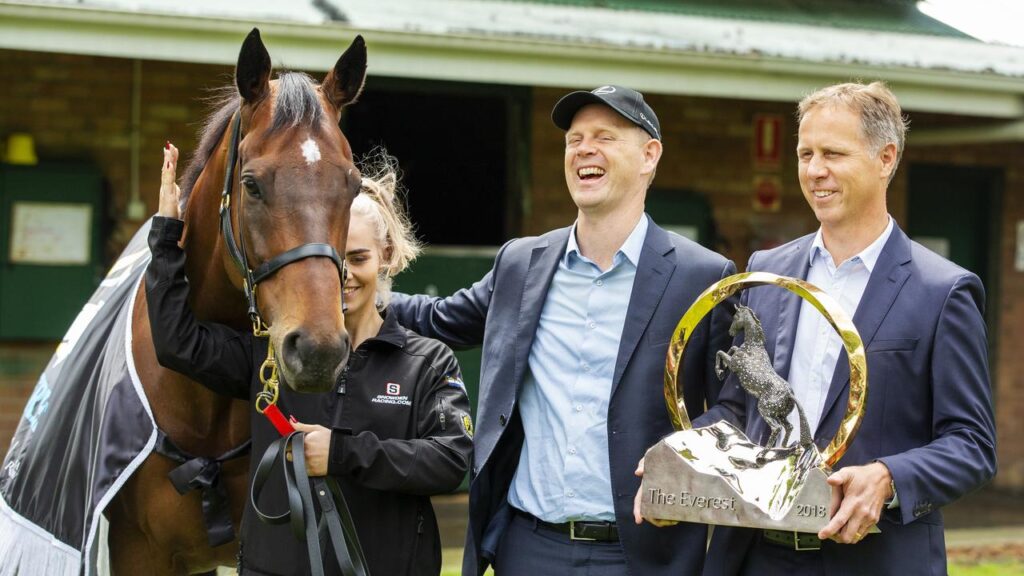 Ward's Triple Crown put together a syndicate of more than 20 owners that range in vocations from a chimney sweeper to a doctor.
Alan Prince, who celebrated his 68th birthday on Tuesday, has operated his business as a chimney sweeper in Sydney's southern suburbs for 32 years.
"I'm actually in the process of selling my business," Prince said. "But it's been hard because not many people want to get their hands dirty these days.
"I also run a lawn-mowing business over summer and I've found the harder I work, the luckier I get."
Prince used to part-own a handy sprinter called Atlantic Crossing about 30 years ago but when that horse suffered a leg injury and was retired, he didn't get back into racing for many years until coming across an advertisement for Triple Crown Syndications.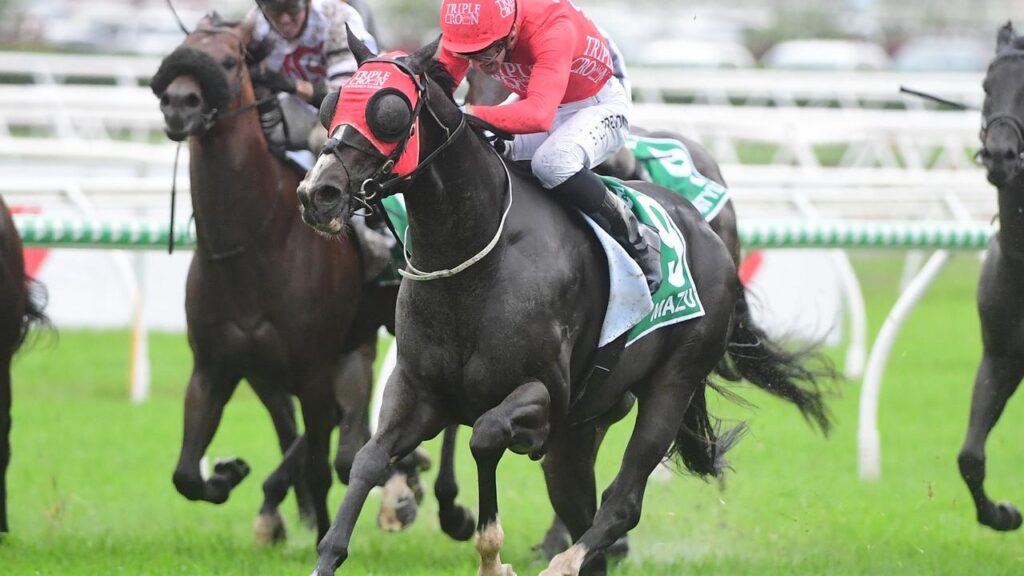 He took a small share in Charretera who was no world beater but won four races and ran 21 minor placings.
"Charretera got me enough money to invest in a couple more and I got into Mazu," Prince said.
"I decided to buy into Mazu because I had followed his sire, Maurice, who was a champion in Japan and Hong Kong. They called him the 'Beast from the East' – he was so good."
Prince also has a share in Huetor who will line up in the Group 1 $5 million King Charles III Stakes (1600m) on Everest Day.
It could be argued Prince and another part-owner, Victorian-based Lindsay Caminiti are the Mazu syndicate's lucky charms.
Caminiti only got into racing five years ago after attending Winx's famous fourth Cox Plate win in 2018. He also took a liking to Arrowfield Stud stallion, Maurice, which led him to taking shares in Mazu.
The owner also has shares in Gold Trip, last year's Melbourne Cup hero who won the Group 1 Turnbull Stakes last Saturday.
Then there is Dr Fergal McCourt who works on the Sydney Rescue Helicopter and runs the emergency department at Orange Hospital.
This is just a snapshot of how racehorse syndications makes owning thoroughbreds affordable and brings together people from all walks of life.
The Everest, the world's richest turf race, is a classic case in point. There are five sprinters in the field that are owned by syndicates of everyday Australians who are competing against the superpowers of world racing like Coolmore, Godolphin and Yulong.
For Ward and Triple Crown, this is the fifth year their familiar red and white racing colours will be represented in The Everest.
Triple Crown had immediate success when their former super sprinter Redzel won the inaugural The Everest in 2017 then backed up a year later to win the rich Randwick race again. Redzel also ran in the 2019 Everest but finished unplaced behind Yes Yes Yes.
Mazu flew the Triple Crown flag again last year and ran a close third to Giga Kick.
Ward remembers when the race was first announced early in 2017: "I thought how good would it be to be a part of this race," he said.
"But I never would have dreamed that seven years later, we are about to have our fifth runner in The Everest and we have already been lucky enough to get two wins and a third placing."
An initial criticism of The Everest was that it would be the reserve of racing's elite but Triple Crown's success proved otherwise: "We smashed that concern in year one when Redzel won," he said.
"Then you look at this year's race and it is just brilliant there are so many different syndicators with runners in the race.
"I think it rams home the point about everyone being equal on the racetrack and how successful syndicators are introducing new people into the racing industry."
The Everest field also includes syndicated horses like Espiona from Denise Martin's Star Thoroughbreds, Overpass and Scott Darby from Darby Racing, and the Joe Pride-trained stablemates Private Eye and Think About It with Jamie Walter's Proven Thoroughbreds.
Martin's Star Thoroughbreds has been a hugely successful business for 30 years introducing potentially thousands of people into racehorse ownership.
She has syndicated many outstanding racehorses including Sebring, Theseo, Driefontein, Foxplay, Invincibella and D'Argento but Espiona is her first Everest runner.
"The Everest is a relatively new race on the Australian calendar but over the years we would have had some wonderful candidates especially Sebring if the race was run back then," Martin said of her 2008 Golden Slipper winner.
"But we feel very fortunate to have Espiona running on Saturday. The Everest is a different situation because you are not the person who determines if your horse can get into the race.
"You are at the mercy of the slot holder to feel similarly about your horse so when Chris (Waller, trainer) rang to say his partners in the slot had selected Espiona, the owners in our mare were collectively delighted.
"I find it interesting that there are three mares in The Everest on Saturday and I am mindful that no mare has won this race before.
"It would be especially thrilling if Espiona forges her own place in history as the first mare to win the race."
Private Eye and Think About It are challenging for Everest favouritism and are two of the most inexpensive horses in the field.
Proven Thoroughbreds was able to buy Private Eye for just $62,500 at the Adelaide Yearlings Sales, Think About It was secured for just $70,000 at the Melbourne Premier Sale. The only Everest runner who was sold for less is Buenos Noches who was secured by trainer Matthew Smith and then syndicated to stable clients for just $40,000.
Walter said as yearlings Private Eye wasn't a great moving horse and Think About It was very backward which "penalised" both at the yearling sale.
But there was something about both horses that interested Walter and some years later both sprinters are among the main chances in The Everest.
"There are separate syndicates in both horses which is going to make it kind of awkward when they pass the post," Walter said.
"We have more than 30 people involved in Think About It and more than 20 in the Private Eye ownership group.
"One of the great virtues of syndications is that it brings together people from all walks of life.
"When you have more than 20 part-owners in a horse, it touches so many people, their family, work colleagues, their friends – the ripple effect of a good horse is quite profound."
Scott Darby of Darby Racing has been to The Everest before with She Will Reign in 2017 and Overpass last year and although both ran unplaced, he described it as an "experience money can't buy for his owners."
"I think it's a great advertisement for how good syndicators are in Australia that we have runners in The Everest," Darby said.
"We bring so many people into racehorse ownership. I was talking to Hubie De Burgh (leading European bloodstock agent) the other day and he was so envious of the way we do things in Australia.
"Then we get a horse like Overpass into The Everest, you can see what it means to our owners what it means to be in a race worth $20 million.
"Overpass cost us just $75,000 as a yearling and here he is in The Everest – it just shows everyone is a chance in racing."
By Ray Thomas
Racenet